BACK
Dec 15, 2016 |
Archive (2008 - 2023), |
admin
2016
The Olympics is perhaps not what you would expect
Look after your body and your body will look after you - part two
The problem is that very few people ever think about being injured until they are, and sometimes, sadly once the damage is done it is done, much like (and I guess I am showing my age here) when you knock over and break a China tea pot, however carefully you glue it back together it is never quite the same again. Injury prevention is ALWAYS better rather than trying to cure an injury when it occurs.
Therefore, as a coach I always go to great lengths to try and stop my sailors injuring themselves or at the least promote the best possible recovery once an injury has occurred. Good form is not only safe but fast. Often injuries just occur where there is a weakness or tightness, so the stronger and more flexible you are, the safer you are. Speaking as someone who has had many injuries (and surgeries) for me there is no doubt that the worst time in my life was when I had my neck surgery (removal of 2 discs and fusion of 3 out of 7 of the vertebrae in my neck).
This meant 7 months out of sailing and I wondered if I would ever return to the sport I love. Often you only truly miss something when it is taken away from you; It was during this time I wrote Be Your Own Sailing Coach (later rebranded Coach Yourself to Win) to keep my mind occupied, but even so, not being able to "physically do anything" drove me crazy (and explains why I always want to make the most out of every single day now). I spent my time thinking when I return to sailing how can I make the best of every minute I have on the water and this is how the idea (of goal setting and coaching yourself) was born, and after all I spent most of my Olympic campaigns without a coach.
Laser sailing is great but it is hard on the body: we need a very strong core to protect our spine, and back and neck problems do tend to be common. Pain is nature's way of telling you something is wrong and you need to react before this happens (rather like, but far more serious than you need to drink before you are thirsty on a hot day).
A couple of examples of this is sticking your finger in a fire: it hurts but if you pull your finger out immediately (please I am not encouraging you to do this) then no harm done. Or even simply bending your finger back with your other finger, to the point of pain. So long as you release it again quickly, no harm done, but why take the risk! You need to stop doing whatever is causing you pain immediately and try not to do it again! Please note pain is very different from muscle soreness which you just get from working hard…
Looking back at this year we had done only one regatta when Lily's neck problems started, the 2016 World Championships in Oman. She flew back to China over Christmas and the neck spasm completely locked her neck up, so she spent 2 weeks lying on the bed and I wondered if I would be in Miami on my own (as sadly Oren's programme stopped when she didn't get the required result in November). Ultimately Lily flew out to America and with daily help from Jaguar therapy we somehow got through the regatta but a trip for an MRI after the first two days showed what I most feared, she had a prolapsed disc in her neck.
Spinal health is something to take seriously whether you are an occasional club sailor or an Olympic Athlete. Having a bad back is not something to take lightly (often a bad back can progress to a bad neck) and in 2016 we missed many important regattas: Palma, Hyeres, Medemblik and nearly all the Rio training regattas and countless days on the water; there was always the worry that if the spasm came back then there was a very real chance she would have missed the Olympics. Looking back, I am just so happy we completed the event and that Lily still desires to sail.
Lily has decided she loves sailing, I think because of the same feelings that I had; when you have something taken away from you it is only then that you realise just how much it means to you. She wants to do the Volvo Ocean race which has now revealed some very exciting prospects for female sailors. Indeed the time has never been better for female sailors. So keep going girls, only one person gets to go to the Games but there are many other opportunities out there and Laser sailing can be a wonderful stepping stone.
Training for the Volvo Ocean race began in October but this was obviously not possible with the neck situation. Rest is often the best cure. it is amazing what your body can recover from given time but after several months of no progress we went up to Harley Street to see Doctor Keith Bush, a pioneer neck surgeon in Harley street, London.
Surgery should always be a last resort and even cortisone injections should be avoided as much as possible (I have had a huge number in my shoulders, before finally having surgery in both shoulders). The good news for Lily and indeed any young athlete is that in most cases surgery can be avoided.
It is the ligaments which support the joints and this can be made more brittle by the cortisone injections. For Lily we are trying Prolotherapy, the injection of a solution into the ligaments to create healthy collagen fibres in weak ligaments. So now she is taking weekly trips to London for her injections with the hope of seeing a gradual improvement over the next 12 weeks and then as they say, we will see, what we shall see.
Laser sailing can lead you to many places and offshore sailing and the America's cup are just two great examples. Both come with risks and it is so sad to see the death of Andrew Simpson training for the America's cup and more recently single handed round the world sailor Guo Chuan who was lost at sea; having spent time with both I can say what a loss to the sport these role models are but the risks must never stop us pursuing our dreams.
It is so good to see the number of young UK sailors who have recently gone full time sailing, so many I sometimes forget who is now full time sailing although usually it is obvious with the performance gains they make and I see lots of them now living in Weymouth and Portland. To these sailors, the future of our sport I wish the best of luck. It is important to remember it is not just about doing lots of sailing… look after your body and your body will look after you. Any help or advice, please feel free to ask.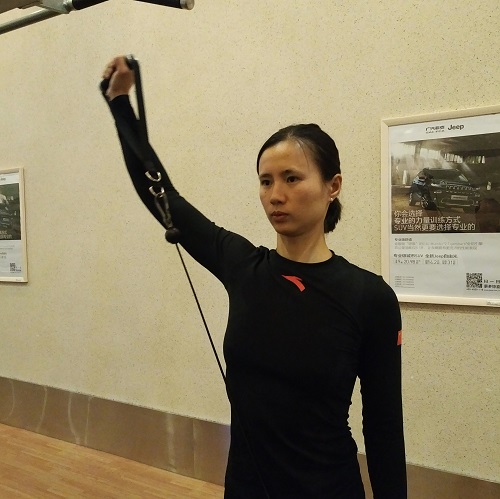 The Masters Europeans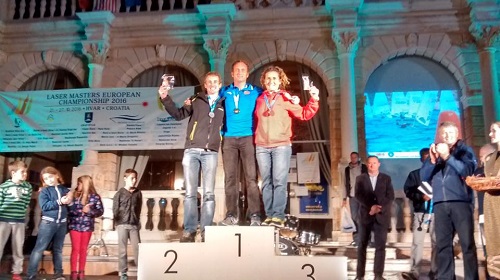 We set out with probably our strongest team GB yet for the 2016 Masters Europeans in Hvar, Croatia. Most British boats were taken by Jubby from Sailboat deliveries and arrived before 95% of the other sailors and given prime launching position by the ramps (or where the floating ramps would eventually be, as it took a few days for them to be put up – I don't think the Croatians expected the Masters to arrive so early)!
My own start to the regatta was not ideal when I went to the toilet near the end of the opening ceremony and got locked in the building. This saw me stumbling around in the dark until I found a key in the door to the boiler room which meant I could make my escape jumping over an 8-foot-high wall and subsequently injuring my left leg.
The first two days were sailed "outside" in 15 knots and great waves, and it was great to win four from four races. Maybe it was a bit of a boat speed contest but with so many happy smiling faces it was difficult to argue that it was not champagne sailing conditions. Thom Thou managed to get some great action pictures all week.
The club were super friendly, providing free food every day after racing. Unfortunately it was a good 10 minutes' walk from the floating ramps we used for launching, so, after the first day walking over 20 minutes in my wetsuit I decided I would change before getting food (5 days of walking in a wet wetsuit could end up with a nasty bit of wetsuit rub).
So, after day 2 I returned to my hotel and quickly showered and changed but not quickly enough as they had run out of food by the time I arrived. They quickly reheated yesterday's meal for me and the other late comers but sadly it was not reheated enough. At 3am the following day I found myself running to the bathroom with food poisoning and I was certainly not alone. Funny, as I remember one of the sailors (who had the fresh meal) looking jealously at my meat and pasta, the previous day.
Unfortunately, the waves were so big by day 3, that we raced "inside" between the Islands. The result was super gusty and shifty conditions, but probably much less hard work which was good for me (and several others) who were feeling far from 100% due to the food poisoning. A 2,1 score was respectable, especially on a day when many of the top sailors were picking up high scores and struggling to stay consistent.
Day 4 and again inside but this time with 10 knots from the west the shifts were more easily managed. Much to my relief I scored 2 bullets to win the event with a day to spare (which meant my leg had a chance to heal and I could have a dry wetsuit for the flight back!) Behind, things were super tight with Ian Gregory, Monica Azon, Terry Scutcher all scoring 6 points (3,3; 2,4; 4;2 respectively) battling it out for the remaining 2 podium positions.
Day 5 and the thought was on many people's minds that with a very strong North Easterly would the catamaran taking us back to Split the following day be cancelled? The good news is there is a ferry the other side of the Island that always goes, departing at 05:30 but most people would prefer a few extra hours in bed.
I for one was glad not to have to race the final 2 races, as the second discard coming in after 10 races meant I could discard the last two races; giving me a leisurely day and the chance to pack a dry wetsuit for the flight home. It was Steve Smith who grabbed the bull by the horns to score two race wins: he said it was just like racing at Chew Valley! and propel himself into 3rd place overall (with Ian Gregory remaining in 2nd). Thus with Terry Scutcher 4th (Monica Azon 5th) and Rob Cage 6th, UK sailors took 5 of the top 6 places in the Radial fleet as well as winning every category apart from Legend where we didn't have an entry (Jon Emmett Apprentice Master, Ian Gregory Master, Terry Scutcher Grand Master, Kevin Pearson Great Grand Master).
After the event the nicest thing was Jubby driving the boats back which meant not only did I avoid a long drive after a tough Championship it was possible to fly back for the UK Inland Championships in Rutland. Although the fast Catamaran was cancelled due to strong wind, the ferry was probably a much more relaxed trip in the extreme wave conditions.

Sadly, the regatta was overshadowed by the extremely sad news that Guo Chuan, Chinese single handed offshore sailor, was lost at sea whilst sailing from San Francisco to Shanghai. A great loss to the sport of sailing.
Full results may be found at: http://lasereuropeanmasters16.com/en/results/results
and there are loads of good pictures at: http://lasereuropeanmasters16.com/en/photo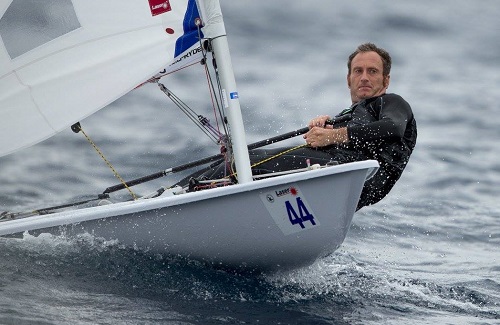 Look after your body and your body will look after you - part one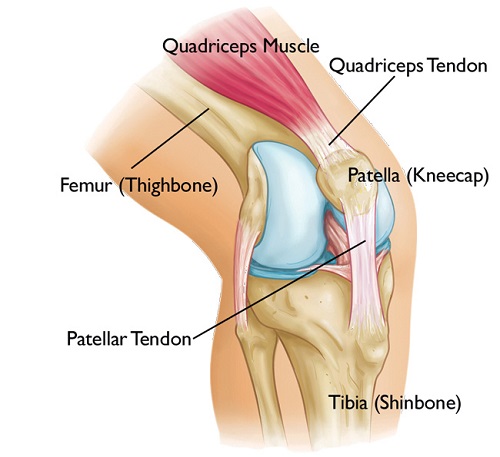 Ever since I have worked with Lily she has suffered from knee pain, dating back to when she had a growth on her knee bone. Fearing it was cancerous the bone was removed and replaced with a donor bone. From this point on she was in almost constant pain whilst exercising, which ultimately forced her to miss the 2004 Olympics, but she had regained enough strength to face the light winds of 2008 and she has always been one of the better sailors in the light winds. Pain leads to loss of strength and contributed to muscle wastage in the left leg and of course this weakness makes the joint less stable and therefore prone to further injury.
Lily has always worked hard but ultimately she was forced to retire in 2013 after a torn AC joint. She finished a respectable 8th at the World Championships in China, where I taped her up every day so that she could sail, and I left China on the understanding that she would rest and recover. Unfortunately, she was later persuaded to do the China World Cup event, just a few weeks later and after a couple of days of sailing the tear was so bad so could no longer raise her arm, and retired, not only from the competition but from sailing, and decided to come to the UK (where she had always been happy in the 2012 campaign) to study at Southampton University.
Having had a couple of years off athletic activities she was no longer aware of these issues, however more or less immediately upon return to sailing the knee pain became an issue. After all, if you sit at a desk it is far less demanding on the body than doing an Olympic programme. We were lucky at the World Championships in Oman, with hot weather, mainly light winds and the hotel right next to the boat park (and therefore virtually no walking) but by the Europeans walking was becoming difficult.
Coming back to the Games with less than a year to go meant no time to deal with this but now the Games are over and Lily would still like to have a career as a sailor we decided we had to investigate the issues, to see if she could continue her career. Our first stop was the Fortius clinic in Queen Square London where we saw knee specialist Andy Williams who fortunately decided that Lily can probably avoid surgery. So in November she will commence a 3-month programme with Dean Cook from Dynamic Injury Clinic in Totton, close to where Lily lives in Southampton.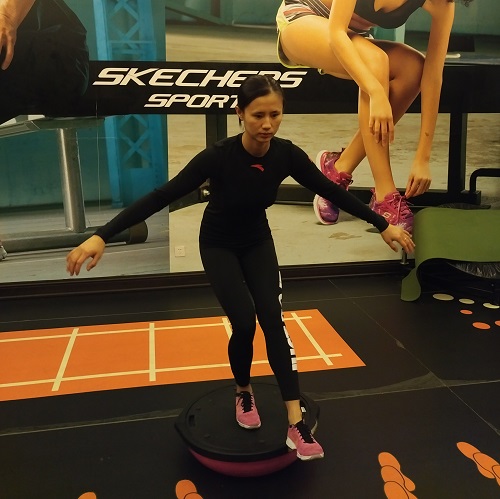 Parkstone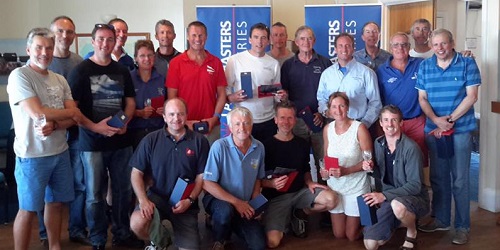 Now the Olympics is well and truly over it is back to normality, and this weekend I drove to Parkstone, to do the Masters' Qualifier. These events qualify you to do the international events next year. The UK Laser class runs the system, so it doesn't matter who you are, you have to attend the Qualifiers to go the Worlds, Europeans etc. So the person who has the best scores goes. For the "open" series it is a low point scoring system 1 point for 1st, 2 points for 2nd and you count your best 4 events, for the "masters" series it is a high point scoring system. So for example 40 points 1st (if 40 or more boats) 39 points for 2nd etc. We, the UKLA feel this is the fairest system; qualification rather than selection (where someone chooses who goes) although this happens for the Youth Worlds and Olympics as these events are controlled by the RYA.
At the moment I am still having serious problems with my shoulders but I have found an excellent sport massage in Dorchester, who is gradually helping me to get the movement back. So I set off on Friday morning to get beaten up (I mean massaged) borrowing the single trailer that the Bishop family (from Castle Cove Sailing Club) kindly lent to me., meaning I could just hitch up and go in the morning. Very useful as I am currently unable to lift a Laser onto a roof myself.
I parked outside the clinic, which is just perfect as with an early appointment there is plenty of parking, although I discovered (upon my return I had a parking ticket) that trailers are obviously not allowed in the car park… listened, learned for another time and I headed off to Parkstone where I was the 1st to arrive, giving me plenty of time to do some Gel coating, sanding and washing the boat which has no doubt felt very lonely while I have been in Rio for so long.
Luckily for me I got everything done before the strong wind and rain arrived, and I left my boat and trailer (well the Bishops' trailer) in what I felt was the prime position which gave me a relaxing start to the weekend and so I went and checked into my Bed and Breakfast and tried to catch up with the week's admin, so I could be more focused on the weekend's racing. Another Laser sailor, Peter Sherwin, stayed at the same B&B so I have him for a lift to the club each day.
The first day I thought I can have relaxed start, with the boat ready to go and strong wind plus rain. I was in no hurry to go to the club, as there was no rush to get on the water, as it would be a short sail and I wanted to save my equipment which still has lots of events to do this year. So upon arriving at the club I decided to wait for the strong rain to pass before rigging. Although it took its time and I decided to change before rigging, and then find my boat and trailer were playing a game of hide and seek. Luckily as people started to launch I found it (a looooong way from where it was left) and with a postponement in place comfortably made it to the start time. The trailer had to wait until after racing though as rather than join his friends the other Laser trailers, he decided to pretend to be a RIB trailer and hide in the opposite side of the club, sitting on top of larger trailer in perfect camouflage.
What a difference a day makes, light winds and waiting was the order of the following day. Although Peter and I still headed down in good time, no harm rigging (I had some minor changes to make, as my new ropes had been too long but I am always cautious about cutting something until I am absolutely sure!) as the sails would not be flapping, so I just waited to change when the tallies where released. Parkstone did a fantastic job over the weekend, with all 6 races, now with just one Masters qualifier to go I hope I will have done enough to get a place for next year.
I think perhaps I was too relaxed in the morning, having intended to go down later. When Peter suggested to go earlier I thought that was a great idea (just in case I had to play hide and seek again) so I stuff my things into my sailing bag with just one exception… The very kind Bed and Breakfast lady very kindly emailed me to say I left my towel, so before heading home I went to pick it up and whilst waiting I just checked my phone. Upon retrieving the towel, I put it and my phone on my boat, whilst I tightened the straps, which had slightly loosened, before grabbing my towel and heading home.
I had driven around 5 miles down the road before I released that I not grabbed my phone at the same time, I stopped, tuned my van upside down, yes no phone (I once managed to drive 150 miles with a roll of Duct tape on the roof my van but no such luck with my phone). I drove back the 5 miles super slow, desperately hoping to see a phone but no luck and then headed back (again super carefully checking for the 1st 5 miles in case I found the phone – after all I had been getting lots of practice of hide and seek).
So I headed back to Weymouth, all the time thinking this is a very expensive towel, and ironically I had just ordered myself a new bamboo towel that I was hoping to use from now on! The thoughts were going through my head, what do I need to do: cancel my SIM, order a new phone as soon as possible as well as change the passwords for bank accounts, credit card, pay pal, British Airways etc. etc.
I arrived back at Castle Cove to See Rob and Sandra Smith who had just finished the Scorpion open. I sheepishly asked to borrow Rob's phone in case somehow a miracle had happened and the phone was in the car… it was not to be and I rang the phone and it went to voice mail. So I went back to the club to give Rob his phone and a call came in. I answered it "Hi Rob's phone" and it was the person who had found my phone (they didn't know to answer my call to my phone and had written down the number and called straight back). Needless to say I was more than grateful and headed straight back to Parkstone to collect the phone and all is well which ends well. Funny I really don't remember much about the racing!
The Olympics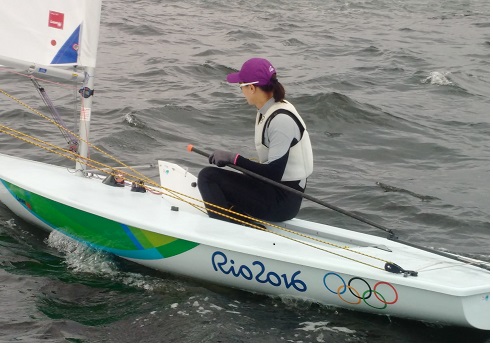 The Olympics is undoubtedly a special event, something which happens every four years and for many people only once in their lives. For me however it is amazing how quickly it creeps up on you: simply you wake up one day and it is the 8th of August 2016 and for this reason I suspect no one ever feels fully prepared. I'm now knocking on 40 and this was certainly a Games of many 1sts for me and definitely a memorable event, but it also re-enforced what a fantastic job the UK did as hosts in 2012.
The Olympics is also not perhaps what you would expect: the atmosphere is of everyone doing everything they can to get the best result. Whilst in normal competition crossing by ½ a boat length may be considered safe (without protest or incident), at the Olympics crosses of anything less than 1 boat length could be considered dangerous and with a 1 discard series, years of work can be put at risk by starting close to someone.
Every point counts with DPI (additional point added to the score) a real worry. We spent days discussing whether you are allowed to put McLube (a lubricant) on the boom and this is before the competition even started, and perhaps my biggest memory was the huge amount of paperwork and documents to read, with endless requests for information. Even then many sailors ended up with points added to their scores.
It started with the boat draw which ended in confusion when the equipment could not be allocated to the correct boat meaning we had to wait an extra 2 days to get the boat. Evi even took a boat off, washed it and was then told she had to bring it back, and at one point Lijia's sail disappeared and Annalise didn't have a sail at all!
Everything was a piece of paper, every request, and upon returning home I feel relieved that we planted 2000 trees on Imberhorne Farm to mark the Millennium and so I can still consider myself "Green" after all the requests on separate pieces of paper: 1. Use a Zhik Toe strap, 2. Use side cleats, 3. Use a wind indicator, 4. Repair the defected centreboard we were supplied with, and the list goes on….
Once we got the boats, we had to wait for the "stickers" to arrive for the sails and at one point (when the delay reached over a week) I was wondering if we were all going to be racing with blank sails. I remember at the Team Leaders' meeting when the Hong Kong sailor was given the wrong country letters on his bib and was told there was not time to print a new one. His reply was he would only race if he could represent his country.
Actually for Lijia, these delays made little difference, although of course no one likes to wait around all day and still not have a boat, but with one week to go I was uncertain that she would be able to race the Olympics let alone finish all the races. She sailed perhaps 6 times in the 2 months before the games after tearing the AC joints in both shoulders shortly after the Weymouth World Cup (it was an AC tear which originally forced her to retire after 2012), whilst I was away for meetings with the Chinese Leaders. Every day we sailed resulted in nearly a week off and we are eternally grateful for the help of Dr Simoni (who was the head Doctor for the Brazilian football world cup) who gave Lijia a double cortisone injection (one in each shoulder) 3 days before the competition, meaning she was more or less pain free for the first two days before things started to deteriorate. I am just so happy we managed to finish the regatta as the disappointment of being in Rio and unable to race would have been unbelievable.
I heard some countries which were more culturally similar to Brazil that they had a distinct advantage being used to organised chaos, whereas for northern Europeans it was a pretty frustrating period. For example, Weymouth often gets given a hard time as we are unable to promise racing in 30 degrees any time of year but the simple things we take for granted like being able to park and having a concrete slipway now seem wonderful. A week before the games the temporary launching ramp in Rio fell to pieces, I guess because someone did the maths wrong, and it was rebuilt at the last minute, a little over half the size. Indeed, I got stuck the day before measurement when I went to wash Lijia's boat and then a truck came and parked to lift the new slipway. It put out its stabilisers while lifting the ramp which meant there was no longer room for me to pass with her boat. She did wonder why I took such a long time!
Of course much was made of the problems that Rio faces, I personally know of several people who were held at gun point and after dark I only ever carried my old phone and a single (low limit) credit card but despite this in nearly every class the people who sailed the best were those standing on top of the podium at the end of the competition. Wherever the barriers, the cream always rises to the top.
The thing I liked most about Rio was the races were never boring: some race courses you had to tack up the middle in the cone behind the Island, some hard left or hard right paid for topographical or persistent shift reasons and as you may have guessed from the results the regatta for the Lasers and Radials was far windier than I think anyone could have expected. It was a consistency regatta which is the way it should be and with a few series of races completed there is no doubt that the person standing on the top of podium absolutely belonged to be there.
Of course there were problems. The pollution meant you had to be super safe and after growing up on a farm where a bit of dirt was nothing to worry about, in Rio I now washed about 3 times as much as I used to, better safe than sorry. It is sad to hear that some sailors got sick, a risk we all took. The Chinese were very unhappy at the beginning of the games when the Brazilians flew the wrong National flag, but after the Brazilians were corrected this turned to rage when the wrong flag re-appeared at the end of the games (10 million comments on the Chinese version of facebook and counting).
Everything was an interesting experience: these games were sadly clouded with doping and I actually stayed in the same hotel as the Russian windsurfers shortly before the event… so I can only imagine what they were thinking. At the beginning several were not allowed in the Olympic venue. Plus, the fact the Ukraine windsurfer who won Palma "recently became Russian" and therefore lost her Olympic spot and came as a coach for Israel. To make things even harder with the doping the brand new testing facility in Brazil was found to be flawed so they had to bring in outside people, I believe the Swiss. I even had a call at 22:30 at night to bring Lily for a test, which in my experience is unheard of… the testers usually come to you (and wake you up at 06:00 because you have to tell them exactly where you are the whole time and this is a time they know they are likely to find you at home and therefore the easiest place to locate).
The effort for security was huge and I can understand the Brazilian sensitivity about the issue, as there was little more they could have done. Lijia sailed only once with her Olympic boat before the games, for a little over an hour. We wanted to see if she could race just putting the mainsheet in the cleat and leaving it there all the time upwind, as she couldn't really use her arms. When she finished changing she left her bag in the changing room (there were no lockers) and went sailing, which seemed quite logical to her… after all where else could she put it? After 30 minutes a RIB came and brought me off the water (no phones are allowed on the water and I guess the Brazilians did not have a Radio), I was taken straight to security where they showed me the video of my entering and swiping my Olympic accreditation with the bag (I always had to carry Lijia's bag, put up her mast, wheel her boat to the slipway etc because of her injury). They had the full bomb squad out and the changing rooms were closed, as I was sent in to identify and open the bag in the Ladies' changing room, which probably looked even worse as I had no idea what was in it!
Although sadly some incidents did happen, and to people I personally know. I think it is about being careful. We had a beautiful penthouse at the highest point overlooking Marina Da Gloria. Indeed, when watching the medal races the helicopter filming was often just a hundred metres from us… I doubt anyone got a better view. Each day I walked down the steps and crossed the bridges to the venue but on the way back I made sure to take a taxi straight to my door. Actually we never made it to the Athletes village, which was a long way from the sailing venue and there were more than a few worrying rumours, besides, we weren't that keen on a free McDonalds. It was a long way to go for that anyway.
Before the regatta we trained out of Rio De Janerio Yacht Club, where the people couldn't be more helpful. I understand it is the longest sailing club in the World (over 1 km) and I spent quite some time walking up and down looking for Lily (it was like a small village with a gym, swimming pool, multiple restaurants, changing rooms etc. etc), and we trained at a 4 storey body tech gym at the nearby Rio Sul Mall (also with swimming pool, health spa and fitness classes nearly every hour of every day – we are a big fan of the benefit of Pilates). Looking back, Rio felt as much home as anywhere that I had stayed in the past.
The Team GB did a wonderful job, top sailing Nation and finishing 2nd overall. If people find the selection and support policy hard then I think the results absolutely justify the method and for Team GB to enter the Olympics with both the Radial and Laser as current World Champions shows the level of British sailing: Both our sailors showed moments of brilliance with Nick Thompson dominating the racing on Copa with a 1,2 and Ali Young dominating the racing on Sugarloaf with 1,1 including the medal race.
At the time of writing they are preparing for the Para-Olympics and this will be the last para- Olympics for the sailors, at least for 8 years. I wish the British team the best of luck and I am aware there were huge budget issues. For example, we were only allowed to take drinks from the Athlete dining hall between 11:00 – 13:00 and 16:00 – 18:00. We had only one access ramp to the sailors' information desk, not large enough for 2 wheel chairs to pass. My understanding is they will give a red/green flag system to determine who may pass but there could be some extremely tense moments nearly the end of protest time.
So as one campaign ends another begins, I am so grateful to all the people who helped along the way and without mentioning them by name, they know who they are. I also hope that the current generation of sailors can be fully inspired to keep the UK top of the sailing medal table (I know the Australians are arguing differently using a different points scoring system). For Team GB to finish 2nd overall is amazing and long may it continue.
Now looking forward I am planning my visit to Japan soon after the end of the UK domestic season, most likely in December/January, not for sailing (I believe many of the Japanese will be in Melbourne or Perth) but to learn about the venue. It appears that there are at least two training venues which are close to course areas whereas the other will host most of the regattas (much like the decision we had for Rio, where I decided to be based at the Yacht Club not the Marina… decisions, decisions). Every little thing: where best to eat, sleep and train makes a difference and once more the Olympic cycle starts again… knowing the Japanese culture they will take tremendous pride in proving the best event they possible can and I also love Japanese food!
Rio training

The waiting game
I have been working with Oren Jacob from Israel for the last two years now and after missing qualification for the Olympics by the narrowest of margins (I watched her give water at the last mark, of the last race, to the girl who took the last Olympic spot! In the 2014 ISAF World Championships in Santander) we are now waiting to see if she will get a ticket for Rio.
May will be a long month as MNAs (countries) have until June 1st to decide if they will be taking their places at the Olympics. So for Oren there is still a chance that if someone doesn't go, then she will have a chance. At only 21 years old the chance to do an Olympics is a wonderful opportunity and would stand her in great stead for the future… so now we are in the waiting game.
Whilst at the same time Lijia (Lily) Xu from China has recently returned to sailing and having only done 4 major regattas (Oman, Miami, Gran Canaria and Mexico) we are certainly short of time but I guess no coach ever feels they have enough time and no sailor ever truly feels fully prepared. As the obvious choice to represent China (despite a 2 year break from sailing) Lily has still not had the official nod from the Chinese selectors.
Nevertheless I am in full swing with a programme. We will spend May training wisely in Brazil, trying to learn all we can about the Olympic venue whilst waiting for some good news.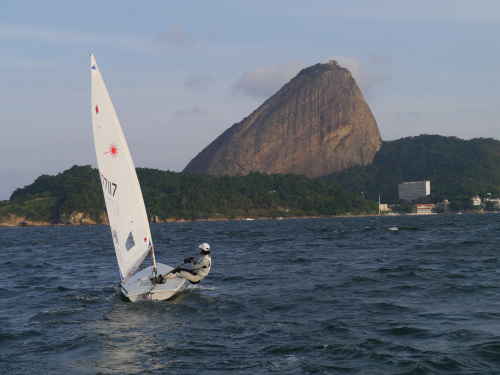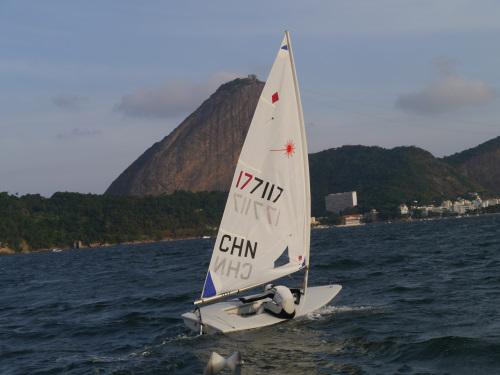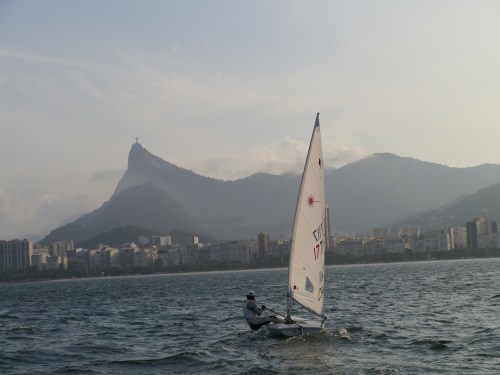 Jon Emmett has over 20 years of coaching experience from grass roots to Olympic Gold.